cacaOh!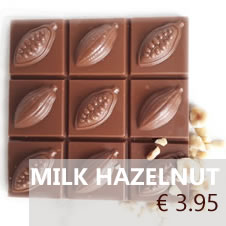 MILK SUPREME CHOCOLATE WITH ROASTED HAZELNUTS
KAN SPOREN VAN NOTEN, MELK, EI EN GLUTEN BEVATTEN, VEGAN CHOCOLADE GEVAT GEEN MEILK EN EI.
PEUT CONTENIR DES TRACES DE LAIT, OEUF, FRUITS A COCQUE ET GLUTEN, VEGAN SANS OEUF ET LAIT.
MAY CONTAIN TRACES OF NUTS, MILK EGG GLUTEN - REQUEST SPECIFIC ALLERGENE INFORMATION BY REFERENCE
ALL NATURAL NOVELTY THE 4TH CHOCOLATE
DARK CRIOLLO MADE WITH UNIQUE BEANS CAREFULLY ROASTED. ESPECIALLY MILD
SUPREME MILK AND IVORY WHITE WITH A HINT OF COFFEE
ORO GOLD CARAMEL WITH FLEUR DE SEL. BESTSELLER

The natural richness of cocoa is determined by origin, geology and climate differences, combined with local customs for roasting and fermenting, the soul of each chocolate. Our unique tablets come in many variations offering a wide choice of flavours and toppings. Our novelties : ORO GOLD caramelised chocolate with black salt (Hawaii) - DARKMILK combines profound cocoa flavour with a silky milky touch, and 12% less sugar - Dark CRIOLLO 70, single blend from unique beans selected in Colombia, refined floral cocoa notes with limited bitterness - RUBY, the 4th chocolate - SUPREME MILK with roasted almonds. Contact us for more flavours and other packaging.
CACAO SMAAK MET ROMIGE MELKTOETS EN 12% MINDER SUIKER